Disclaimer: I received this product at a 50% discount in exchange for an honest review. I was not compensated in any other way. You will find affiliate links in this blog post for your convenience. See our disclosures here.

When your toddler or young preschooler is starting to identify words and print awareness, show letter knowledge, and maybe even proving some phonological awareness (by saying certain letter sounds), it could be time to begin the reading journey with your young learner beginning with pre-reading skills. My 3-year-old was doing this, which is when I got more serious about his reading skills, so I was able to get the All About Reading Pre-Reading Program by All About Learning Press.
I didn't even know a pre-reading level existed from All About Learning Press until I saw it, so I snatched up the pre-reading deluxe package pretty quickly. Once I had the deluxe kit in my possession, we were very excited to start building a solid foundation of reading comprehension, listening comprehension, and reading skills with fluency practice and fun reading lessons!
What is the All About Reading Pre-Reading Program?
You may or may not be familiar with All About Learning Press, the company that created the All About Reading program (AAR) but, essentially, in a nutshell, the All About Reading curriculum is a program that helps kids read. It uses a mastery-based approach, which means it focuses on one concept at a time to be mastered, and then, once that one concept is mastered, it will move on to the next concept.
Not only are all of the AAR curriculums mastery-based, but they are also multisensory-based. This means that your child will have multiple activities within the curriculum available to learn the concepts, such as learning with review cards, coloring, playing special games, reading, and playing with objects that are included in the games. The program teaches phonics, decoding, fluency, and comprehension in a brilliant, engaging, and super fun way with all of the material already included in the curriculum.
About All About Reading Pre-Reading Deluxe Set
The All About Reading Pre Reading Deluxe set is a great initial step for reading, teaching the very basics of reading by introducing all the letters as well as five essential pre-reading key skills for reading. All About Reading Pre-Reading is best for the young learners who are just starting on their education journeys, such as preschoolers and kindergarteners, because it specifically constructs a strong, solid base or foundation for later reading as they grow and develop.
The All About Reading Pre-Reading curriculum teaches 5 key skills that grow with your child's reading development:
Print Awareness (understanding exactly how books function)
Phonological Awareness (understanding how sounds form words)
Letter Knowledge (discovering uppercase and lowercase letters)
Listening Comprehension (understanding stories)
Motivation to Read (establishing a natural excitement and enthusiasm for reading).
The key skills are done through engaging curriculum lessons that include fun storybooks to read (like The Zigzag Zebra book or the Lizard Lou book), storytime activities, hands-on letter activities, uncomplicated little crafts and projects, and playing lots of fun games – games that your kiddo won't even think are part of the school curriculum. (They'll be asking for more even when it's done for the day – trust me!)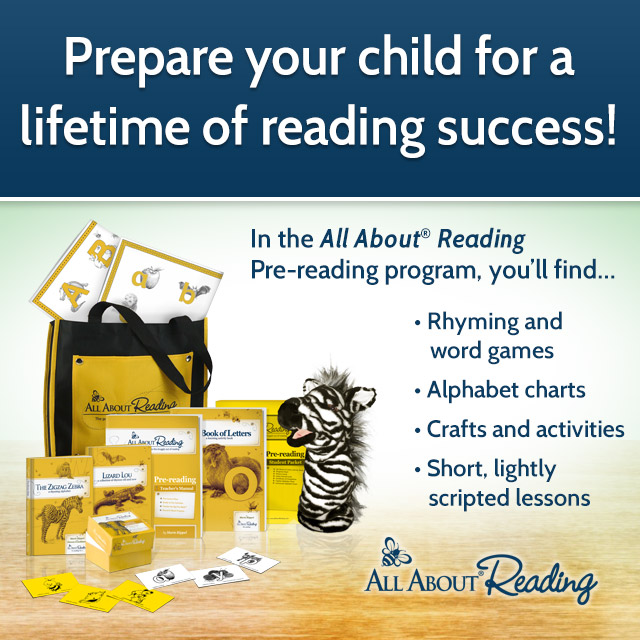 The Deluxe Kit includes:
Teacher's Manual
Student Activity Books
The Zigzag Zebra book
Lizard Lou book
Divider Cards with Letter Sound Cards and Picture Cards
A Review Box (to put the cards in) (index card box)
Reading Tote Bag
Ziggy Zebra puppet
Adorable Animal Stickers
Progress Chart
Letter Sounds A to Z app (for tablet use)
All About Reading Alphabet Chart for Upper & Lowercase Letters
Certificate of Completion
As you can see, you get quite a selection of material with the curriculum for reviewing concepts, reading books, doing activity sheets, instructions for projects, and much more! Your child will be off to a bright, strong start in their reading journey by using this All About Reading curriculum, that's for sure!
How We Use All About Reading Pre Reading In Our Home
I elected to get this particular program because my 3-year-old, Scout, was starting to genuinely pay attention to the act of reading books, noticing words, and even play reading himself. He was also practicing phonics all by himself, on his own initiative! For example, he'd go, "B-B-B-Apple" – so cute – so I could see how he was making the connection between sounds and letters as well as sounds with words on a page in a book. Because of all this, it told me he was ready for pre-reading, at the very least.
And I didn't even know All About Learning had an All About Reading Pre Reading program until I looked through their new year online catalog! I've always wanted to use All About Reading with my other two kids (who are older than Scout) but things with them have been going great – don't want to fix what's not broken. So when I saw an opportunity to start my baby on his reading journey beginning with All About Reading as his very first step into reading, I didn't hesitate. I know that Scout will have all the skills he needs through any All About Reading program and will undoubtedly create a solid foundation with this particular All About Reading Pre-Reading program.
Setting It Up
We loved the material we received for the program immediately. Like, right off the bat. They provide all the key components of reading for a beginner reader. To start, I separated the yellow perforated review word cards first and then organized the review box by putting the cards where they belong, categorized by lesson number.
And since we also got a roomy tote bag, I kept (and continue to keep) all of the AAR material inside the bag, separate from the bigger kids' homeschool stuff. I like to have everything available right there all in one place, and this tote bag does that for me nicely.
The curriculum also comes with not one but two large posters for the Alphabet, one lowercase and one uppercase. I haven't found a permanent home for the posters yet, but I'm currently in the process of creating a little learning area just for Scout and that's where I'm going to hang the posters. So for now, I simply pull the posters out of the bag when we get to the part of the lesson to read the ABCs off of the chart. Then I just fold it back up and put it back inside the tote bag until next time.
The Teacher's Manual gives you everything you need to teach your kiddo, including all the lesson plans, from singing songs to reading to craft sheets to when to use the activity box cards to instructions for activities and projects. I love how it includes variations of activities and that it's scripted to tell me what to say and how to say it for my little one to understand. Because even though I know I'm equipped enough to teach my 3 year old, there are some concepts that could be better worded a certain way for teaching those concepts, and that's where the manual comes in perfectly.
Download the Teacher's Manual sample PDF here to see what I mean.
I make sure that Ziggy the puppet doesn't get pulled out or played with any other time except for during these reading lessons. To keep the puppet from becoming 'just another toy' and to keep the excitement about it, I make sure to put it up in the tote bag that came with the curriculum every time we're done playing with it. When you do this with certain things, those things end up staying special longer. 😉
Our AAR Schedule: One Letter Each Week
I focus on doing one letter each week, which means when we began, we started with the capital letter A for week one. Then week two focused on the letter B, week 3 focused on the letter C, and so on. By doing this, we didn't jam everything all in one day. We spread it out throughout the week so that Scout would be exposed to that particular letter multiple times throughout the week and not just that one time (or that one day).
We follow the Teacher's Manual nearly on point and only sometimes do we deviate from it, but not often. I do love how the teacher's manual tells you what activities to do in a certain order and what to say to your kiddo as well, so it does include some scripted information for you to say to your child throughout the lessons.
It's important to keep in mind, too, that each letter lesson does not mean each day. You can do what we did, as I stated, do one letter per week but focus on that one letter multiple times throughout the week.
Our Weekly Schedule
We begin the new week with a new focus letter. By doing so, I introduce the new letter to him with the All About Reading alphabet chart, then by reading from the book The Zigzag Zebra along with using the adorable zebra puppet named Ziggy. Then after we read, we wrap it up by coloring that letter of the week from the Book of Letters. And that's pretty much how we start the week and how I introduce the new letter of the week.
Download the Zigzag Zebra book sample here to check it out. And download the Activity Book sample PDF here!
Later in the week, we'll do the ABC chart again, and then we'll do review cards if that's what the lesson calls for according to the Teacher's Manual instructions. Most lessons call for the review cards, but not every single one of them, so it just depends on what the Teacher Manual states. After we do the ABC chart and the review cards, we'll move on to a hands-on project. The multisensory project is a fun part of the curriculum and my tot loves it just as much as the puppet.
On another day, we will sing the Alphabet Song (sometimes singing it on multiple days) and/or review the ABC chart (again, sometimes on multiple days), and then move on to the Letter Sounds A-Z App that is included with the curriculum. We haven't used the Letter Sounds app very much, though, but we practice letter sounds face-to-face while reading books.
Lastly, I'll do anything else that might be "outstanding" from within the Teacher's Manual or add in my own supplemental activities. But I would say 50% of the time, we'll just read another book or even re-read what we read from Day 1. And as long as Ziggy the Zebra puppet is there reading along with us, it's a win!
Every Night, we read different books. Sometimes we'll even just do sticker books, though board books are the primary books we read at night. While reading, we continue identifying the new letters he's learning or has learned as well as letters we've yet to come to in the curriculum. We even love 'reading' books with very few words at night, such as Timberdoodle's My Big Wimmelbook: Fire Trucks!, because even those kinds of interactive books are wonderful for building vocabulary.
The program is set up to introduce and review uppercase letters first since children are more accustomed to seeing the capital letters first in just about everything. After you're finished with the uppercase letters and the uppercase ABC chart, then you'll move on to the lowercase letters and the accompanying lowercase abc chart.
Ziggy the Zebra Puppet
Ziggy the Zebra puppet gets its own special section all by itself because I want to make a special note about this adorable Zebra. It could have been any type of animal or puppet, really, and my son would have loved it just the same. When I ask Scout if he's ready to "read with Ziggy," he never, ever turns it down. Sometimes I'll be Ziggy and read with him in a "Ziggy-like voice" and then sometimes Scout will put Ziggy on his arm and answer my questions by being Ziggy.
I can't stop gushing about the adorability of it all! Brilliant is all I can say when it comes to capturing the attention of a 3-year-old and getting him excited to learn how to read. We pull Ziggy out to read all kinds of other books now (but just to read books with) and not only for these AAR reading lessons, and it continues to impress me. Using that puppet to keep little kids excited about the lesson at hand is genius.
Of course, you can use your own puppet for teaching ideas instead of Ziggy, but the zebra is themed in the first book and it's a great way to introduce this pre-reading level to your beginner reader.
Completion of a craft sheet from the Book of Letters:
How We Use All About Reading Pre-Reading Program 2021 (Review)
We really enjoy using the All About Reading Pre-Reading Program and it was a very good fit for our family. Even busy parents could use this curriculum by taking just 30 minutes for the AAR lesson with their preschooler each day or a few days a week! I think it is the perfect introduction to reading for our little ones to teach them not only a love of reading but also a specific set of skills and for creating stepping stones for further learning as they age and continue to develop in their reading skills – even to prep for the next AAR level.
To start your child off with a strong reading foundation, I highly recommend you use the All About Reading Pre-Reading Program by All About Learning Press. No joke! All About Reading is a very well-known curriculum with 5 stars all over the place and, just by using their pre-reading program, I can see how they instill building blocks for strong reading skills as your child grows. You could just stick with all of the AAR programs, beginning with this pre-reading one!
Being a strong reader has its own set of benefits – I don't have to tell you that. Reading is everywhere. Reading skills cross into other areas, such as critical and logical thinking skills, problem solving skills, and more.
To see if your child is ready for All About Reading Pre-Reading, click here to download the Readiness Checklist.
If you're curious about the All About Reading scope and sequence, click here to download the AAR scope and sequence.
All in all, I'm super happy with the All About Reading Pre-Reading program! It provides everything you need to build a strong reading foundation for your beginner reader (and I can't think of anything else I would need!). Uncomplicated, easy to understand and to teach, and successful – that's what this pre-reading program truly is.
LIKE THIS REVIEW? PIN IT! ⬇️