Disclaimer: I received a FREE copy of this product through the HOMESCHOOL REVIEW CREW in exchange for my honest review. I was not required to write a positive review nor was I compensated in any other way. Affiliate links are provided for your convenience. Read my disclosure policy here.
Is science the one subject you're leaving out? Science is one of those subjects that the more you know, the more you need to know. There is no stopping point with science – your learning just keeps growing as you press on. The wonderful part about the infinite subject is the opportunity to learn various topics of science, like astronomy or biology.
In Journey Homeschool Academy, they make it easy for homeschool parents to stop leaving out science class from your day. They offer both Astronomy and Biology courses for elementary as well as upper-level students. Our family received Experience Biology: Elementary and we adored this online science course.
About Experience Biology: Elementary
We were pretty excited to receive our membership information for Experience Biology: Elementary class. I've been meaning to add biology to our homeschool plans, but for some reason, I kept leaving out science class. Guilty. Either I thought I didn't have enough time to cover it or that the kids were learning enough science right now catching frogs and discussing different aspects of the frogs with me!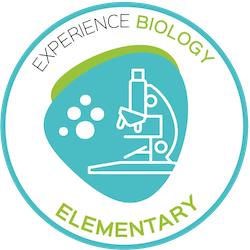 Even though I don't have a natural affinity for certain science classes (for instance, when I was in school I struggled big time in Chemistry but excelled in Environmental Science), I know science is an important subject to include in my children's education. Science is such an intriguing subject that offers so many interesting facts about every single thing in this world.
My children have a natural curiosity about the world around them. I may not be equipped knowledge-wise about science facts, but I love learning about *all the things* right along beside them. Which is where Journey Homeschool Academy comes in the picture.
And why were so delighted to receive lifetime access to their online elementary biology course! Everyone who signs up with them also received lifetime access – not 1 year, not 2 years, not 6 months, but you have the course for life. Now that I can get on board with (especially with my track record of leaving it out of our homeschool schedule sometimes/some weeks).
What You Get With This Online Science Curriculum
The course is accessible online with your unique login information, which you'll receive once you purchase the course. There are 16 lessons with the course at the time of this writing, with more lessons coming soon to complete the course with 30 lessons.
What is life?
The building blocks of life
The secret code of life
Fueled up!
What's in a name?
Biomes everywhere!
Itsy Bitsy Teeny Tiny creatures
The junk drawer kingdom
The fungus among us!
What is a plant?
The wide world of plants
Mean, green, energy-making machines
Roots and shoots
The reason for flowers
It begins with a seed
Amazing animals
17-30 Coming soon!
Each lesson comes with:
Video lesson
Memory lessons (short)
Extra Resources: Memory cards, Activity guide, Copy work, recommended reading list, and activity quiz
Although there is one for every lesson, here is the recommended reading list with all lessons included.
If you would like to see a preview of the elementary biology course, click here.
If Science Is The One Subject You're Leaving Out, This Homeschool Science Curriculum Will Make You Love Science Class
We usually plan to have science class at least once, hopefully twice, a week. With this course, though, we used it three times a week to get a good feel of it.
The videos captured the kids attention and they really enjoyed what they were learning.
The only way for them to remember the details of what they learned, however, is by practicing with the memory cards provided and watching the Memory Video on Day 2.
Day 1: Watch video and do copy work and memory cards
Day 2: Watch short memory video, do memory cards, and activity
Day 3: Memory cards and Lesson Quiz
A Homeschool Science Curriculum That Will Stop You From Skipping Science Class
The Experience Biology: Elementary course by Journey Homeschool Academy helped us enjoy science a lot more! And it really helped me enjoy teaching it!.We loved everything about it: from the video lessons to the memory work, all the way to the reading list, activity, and quiz. It was super simple to keep up with and we didn't have to juggle and keep track with a million pieces!
To read more reviews of various courses by Journey Homeschool Academy for both upper levels and elementary, read the Homeschool Review Crew blog or click on the banner below!