Charlotte Mason was a turn-of-the-century British educator who advocated for the use of Living Books in the classroom. Unlike traditional textbooks, which are often dry and dull, Charlotte Mason believed that students should read engaging stories that would inspire their imagination and encourage a love of learning.
While Charlotte Mason's educational methods fell out of favor in the mid-20th century, her ideas have seen a resurgence in recent years, particularly among homeschoolers. If you're looking for some great living books for history to add to your homeschool library, check out this list of 100 titles.
From classic children's literature to biographies of inspiring historical figures, these good books are sure to capture your child's imagination and help them to fall in love with learning. So whether you're planning a cross-country road trip or just looking for some great bedtime reading, be sure to add some Charlotte Mason Living Books to your list!
Disclaimer: You may find affiliate links through this post for your convenience. See privacy policy here.
Studying History While Traveling – Charlotte Mason-Style
If you're interested in keeping with the Charlotte Mason homeschoolers type of style of learning while you're also traveling and homeschooling, or if this is your first time learning about this type of curriculum, you could start off by following this format I've used.
I still use this format for historical books, reading picture books, and world and American history studies myself, even when I'm home and not traveling, and nowadays, I incorporate interactive notebooks and unit studies. Although, often follow this setup when I put together unit studies. It's just easier when you have some sort of "teaching formula" for subjects, don't you agree? However, that could just be my organized nature playing a hand.
Start by reading Charlotte Mason's book, "Home Education."
Those new to Miss Mason should start off by reading "Home Education" just to get a feel of this particular Charlotte Mason approach.
You can buy the book, or read it online for free.
I love her methods, even if I don't always do everything she recommends to the T. After all, we're not in Victorian England anymore (and neither are our kids).
After you finish reading about Charlotte Mason's methods in "Home Education," you should have a pretty good idea of how to approach your homeschooling while traveling, using her methods. Which include books that provoke worthy thoughts, show a beautiful expression, intellectual stir, and even nature lore – all of which bring together literary quality in a child's history!
You might want to read aloud the first chapter or two of "Home Education" to your kids, too, just so they understand where you're coming from with this type of homeschooling while traveling.
Of course, if you're not interested in following Charlotte Mason's methods while homeschooling and traveling, that's okay, too. Just read on for more ideas!
Choose a time period or region of the world to focus on.
Before you start packing your bags and planning your trip, it's a good idea to choose a particular time period or region of the world that you want to focus on.
This will help you to narrow down your choices when it comes to picking out book lists and other materials for your homeschool studies.
For example, if you're interested in studying Ancient Greece, you might want to focus on that specific time period. Or, if you're interested in learning about the American Revolution, you would want to focus on that particular event.
Once you've decided on a focus for your homeschool studies, it will be easier to choose books and other materials that fit that theme.
Find books that correspond with your chosen topic and read them together as a family.
You can go to the local library and search in the history living books library section, where you'll find a good deal of quality literature, nature study (which is a big part of a Charlotte Mason education), several books on a certain historical time period, and many other "right books" that Charlotte Mason educators would be proud about.
One of the great things about Charlotte Mason's methods is that they emphasize family learning.
This means that you can (and should!) read aloud to your kids, even when they are old enough to read on their own.
Not only does this give you a chance to bond as a family, but it also allows everyone to learn together.
So, when you're choosing books for your homeschool studies, be sure to pick ones that everyone will enjoy.
Discuss what you've learned after each book is read.
Another important part of the Charlotte Mason method is discussion.
After you've read a book together as a family, take some time to discuss what you've learned.
You can ask questions, share your thoughts, and even debate different points.
This is a great way to get everyone involved in the learning process and to ensure that everyone understands the material.
Take notes on interesting facts or stories from the books to create a living history timeline for your family to refer back to.
One of the best ways to help your kids remember what they've learned is to create a living history timeline.
As you're reading books together, take note of any interesting facts or stories that you come across. Then, add these to your timeline so that you can refer back to them later.
This is a great way to help your kids see how the events they're learning about fit into the larger picture of history.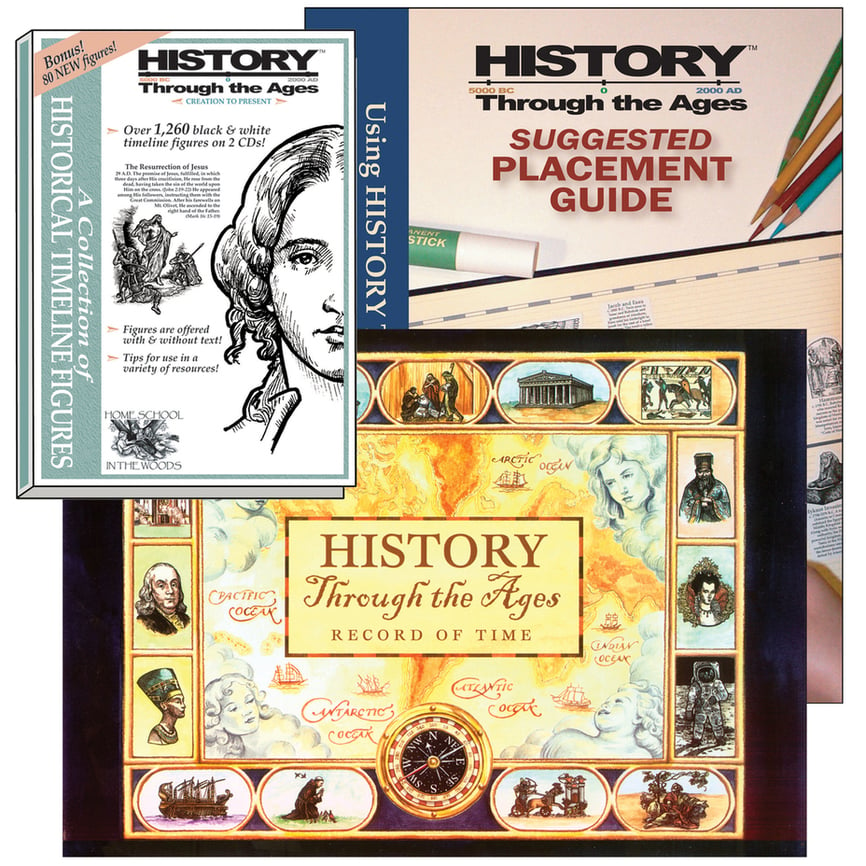 We use the Timeline by Home School in the Woods! It's called History Through the Ages. We love it, especially since it provides you with EVERYTHING you would need depending on the topic in history, from people, to places, events, structures, ideas, marks in history, and so on. For every single era! You can also get the Timeline Book to go with it, so you know where to place them as you're studying that history concept. This is one book I always take with me when we're homeschooling and traveling.
6. Repeat steps 2-5 for additional topics and time periods.
Of course, you don't have to limit your homeschool studies to just one topic or time period.
You can (and should!) explore as many topics and time periods as you like.
Just keep repeating steps 2-5 until you've covered all the material you're interested in.
How To Study History Through Living Books
First things first, come up with a travel itinerary. This will help you figure out what books to bring along, as well as how to budget your time while on the road.
Once you have a list of destinations, start researching the history of each place. This will give you a better idea of what books to bring along, as well as help you plan any educational activities or field trips you might want to do while you're there.
Next, compile a list of living books that correspond with the history of your chosen destinations. These books should be engaging and enjoyable for both you and your children, as well as informative.
How to Study History Chronologically
One way to approach historical studies is to focus on one time period or region of the world at a time. This will help you to better understand the events that took place during that time, as well as how they may have impacted the people who lived through them.
1. Start with the basics – read about history from Creation to the present day.
This will give you a broad overview of the world and its people, and help you to put current events into perspective.
Once you have a good understanding of the general flow of history, you can then start delving into specific time periods or regions. Choose a period that interests you, and begin reading about it in more depth.
2. Move on to biographies of interesting people throughout history.
These can be people who made a significant impact on their time period, or those who led relatively "ordinary" lives but still offer insight into what life was like during a particular era.
3. Learn about other cultures and civilizations through their literature.
This is a great way to get a feel for what life was like in another time and place, as well as to gain an understanding of the people who inhabited those cultures.
4. Study important events and periods in history.
This could include the Renaissance, the Reformation, the American Revolution, World War II, etc. There are endless possibilities here, so choose something that interests you and your family. Just take your particular geographical location and study the history there through great books!
5. Examine historical figures and their impact on the world.
This could include leaders such as Julius Caesar, Napoleon, Abraham Lincoln, or Mahatma Gandhi. Again, the possibilities are endless, so choose someone who interests you and your family.
Once you have a general understanding of the time period or region you're studying, you can then begin reading more specific whole books about it.
6. Discover new perspectives on familiar topics.
There are always multiple sides to every story, so it's important to get a well-rounded view of history. Be sure to read books that offer different perspectives on the same event or time period.
Now, pack up your bags and hit the road! As you travel to each destination, take some time to read aloud from your chosen living books for history. Discuss what you're reading as a family, and be sure to take plenty of notes. You can even create a living history timeline for your family to refer back to later on.
History Living Books I Assume Charlotte Mason Would Approve
Charlotte Mason living books for history are an excellent way to learn about history while you're on your homeschool travels. She believed that children should be exposed to great literature and quality art. She also believed that education should be enjoyable, so her list of books are full of fascinating stories and beautiful illustrations. You can also just make a big living books curriculum without needing the textbooks! Since Charlotte Mason type living books aren't just historical, they cover a great variety of school subjects and varying age groups!
Here are some living books for history that may or may not be on my huge list of excellent books that will help your family learn about history while you're on the road… I can't remember if I put these in the giant list of 100 history living books or not!
The Civil War: A Living History by Ray Raphael
The Story of the Thirteen Colonies by James Daugherty
The Great Depression: A Living History by David A. Adler
World War II: A Living History by Doris L. Berger
The American Revolution: A Living History by Stephen Krensky
The Battle of Gettysburg: A Living History by Gabor S. Boritt
The American Civil Rights Movement: A Living History by David J. Garrow
9/11: A Living History by Shelley Tanaka
Christopher Columbus: Explorer of the New World by Stephen Krensky
Ferdinand Magellan: Brave Explorer of the Seven Seas by actualidadguatemala (Ferdinand
You can download this free list of living book recommendations that follow CM education! Young children to older kids, your entire family will love these book when you're studying history through historical fiction!
List of 100 Charlotte Mason Living Books For History
If you're looking for a great way to learn about history while on your travels, look no further than these history living books. These books are filled with fascinating stories and beautiful illustrations that will help you and your family gain a well-rounded understanding of the topic at hand. So pack up your bags and hit the road! Your homeschool journey is about to get a whole lot more exciting!